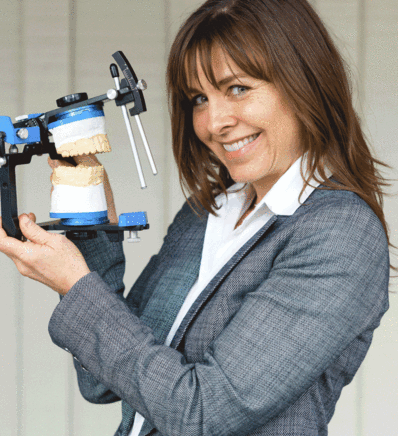 Katherine A. Brown
D.D.S.
" My vision is a practice where each patient achieves absolute health and dental stability without the need for dental intervention for their lifetime. Given new understanding about the cause of dental disease and techniques for prevention, this is now more achievable than ever. "
Dr. Brown has been practicing dentistry in the Bay Area since 2003. In 2009, she began her practice in Atherton. In 2014, she joined this practice in Menlo Park. With a strong background in preventive strategies and wellness, Dr. Brown strives to help each patient achieve health and well-being. Dr. Brown is trained in occlusion, dental sleep medicine, digital imaging, Bioesthetics, full mouth rehabilitation, and functional dentistry. She has trained with the nation's leaders in dental education in order to bring her patients the best that dentistry has to offer.
Dr. Brown holds a Doctor of Dental Surgery (DDS) from the distinguished University of California, San Francisco, School of Dentistry. Upon graduation, she earned several of the school's highest honors, including the Francis A. Sooy Award for Exemplary Ethical and Professional Standards. She was also admitted into the Omicron Kappa Upsilon Dental Honors Society, whose membership is reserved for the top 10% of graduates. Dr. Brown holds a Bachelor of Arts in Biochemistry from the University of Oregon Clark Honors College, where she graduated Summa Cum Laude.
When she is not at work in her practice, you can find Dr. Brown at home in San Carlos, caring for and absolutely loving her two children, or at the gym enjoying boxing, Zumba, and weight training. Dr. Brown is an active member of the Academy of Bioesthetic Dentistry and is one of approximately 300 clinicians worldwide who have completed the curriculum in Bioesthetics. She is active in the local professional community and is a member of the Mid-Peninsula Dental Society, the American Dental Association, and the California Dental Association.
Selected Academic Awards
Deans List, College of Arts and Sciences, University of Oregon, Clark Honors College (1993-1997 contiguous)
Deans List, College of Arts and Sciences, University of Oregon, Clark Honors College (1993-1997 contiguous)
Alpha Lambda Delta / Phi Eta Sigma National Freshman Honor Society, University of Oregon (1994)
Alpha Lambda Delta National Academic Honor Society for Freshmen, University of Oregon (1994)
Golden Key National Honor Society, University of Oregon (1994)
American Heart Association Summer Science Research Fellowship, Oregon Health Science University (1995)
Women in Physical Sciences Fellowship Award, University of Oregon (1996)
Bachelors of Arts in Chemistry, Summa Cum Laude, University of Oregon Clark Honors College (1997)
Organic Chemistry Achievement Award, University of Oregon Department of Chemistry (1997)
Phi Beta Kappa National Honors Society (1998)
Dean's List, University of California, San Francisco, School of Dentistry (1999-2003 contiguous)
Omicron Kappa Upsilon Dental Honors Society, University of California, San Francisco, School of Dentistry (2003)
American Academy of Dental Practice Administration Endowment and Memorial Foundation Award for Excellence and Academic Achievement, University of California, San Francisco, School of Dentistry (2003)
Francis A. Sooy Cup Award in recognition of exemplary ethical and professional standards, University of California, San Francisco, School of Dentistry (2003)
Willard C. Fleming Award in recognition of unusual concern for patient welfare, University of California, San Francisco, School of Dentistry (2003)
American Academy of Dental Practice Administration Award for most professional growth in managerial skills and development of outstanding performance in four-handed dentistry, University of California, San Francisco, School of Dentistry (2003)
Selected Certification/Continuing Education
LASER certification, University of California, San Francisco, School of Dentistry (2002)
CEREC certification, Scottsdale AZ (2003)
Invisalign certification, San Francisco CA (2005)
American Academy of Dental Sleep Medicine, Scottsdale AZ (2009)
Worn Dentition, Frank Spear, Scottsdale AZ (2010)
Facially Generated Treatment Planning, Frank Spear, Scottsdale AZ (2011)
Adjustment-Free Dentistry, Foundation for Advanced Continuing Education, San Francisco CA (2011)
Treatment Planning, John Kois, Seattle WA (2011)
Renaissance in Local Anesthesia, Stanley Malamed, San Francisco CA (2012)
Diagnostically Driven Treatment Planning, John Kois, Seattle WA (2012)
Functionally Driven Occlusion, John Kois, Seattle WA (2013)
Adhesion Dentistry, Ray Bertolotti, Reno NV (2014)
Esthetic Analysis, Frank Spear, Scottsdale AZ (2014)
Demystifying Occlusion, Frank Spear, Scottsdale AZ 2(2014)
Temporomandibular Disorder Evaluation and Management, California Physical Therapy Association, San Francisco CA (2014)
Foundational Occlusion, Mark Piper, Menlo Park CA (2014)
Adhesion Dentistry, Ray Bertolotti, Campbell, CA, (2015)
The New Periodontal Disease, Samuel Low, San Francisco CA (2015)
Completion Level I-II Oral Bioesthetics Continuum, Ashland OR (2015)
Completion Level III Oral Bioesthetics Continuum, Denver CO (2016)
Integrative Dental Medicine, American Academy of Oral Systemic Health, Salt Lake City UT (2017)
Integrative Dental Medicine, American Academy of Oral Systemic Health, Salt Lake City UT (2017)
The Biology of Bioesthetics, OBI, New York, NY (2017)
Physiology, Anatomy, and Biomechanics of Occlusion, Jay Levy, Portland Oregon (2018)
Advanced Adhesion Dentistry, Ray Bertolotti, Honolulu HI (2018)
The Biology of Bioesthetics, OBI, San Diego CA (2018)
Education
University of California, San Francisco, School of Dentistry, Doctor of Dental Surgery, 2003
University of Oregon, Clark Honors Society, Bachelor of Arts, Biochemistry, 1997
Affiliations
Academy of Bioesthetic Dentistry
American Dental Association
California Dental Association
Mid-Peninsula Dental Society